Community Updates
Your resource for all things Monarch by Windsor. Please check back frequently for the latest on community events, updates or announcements.
Announcements
Boil Water Notice: 2/18/21
Austin Water has now issued a boil water notice for the entire city to include our location prior to using it for drinking, cooking, washing, or brushing teeth. It is recommended that you use bottled water if your water cannot be boiled. The official notice is copied below.

We appreciate your patience and vigilance during this difficult time,

Your Monarch by Windsor Team

Official Notice Language

A city-wide boil water notice has been issued due to power loss at The Ullrich Water Treatment Plant, Austin Water's largest water treatment facility, and drops in water pressures below minimum standards. Texas Commission on Environmental Quality has required Austin Water to notify all customers to boil their water prior to consumption (e.g., washing hands/face, brushing teeth, drinking, etc). Children, seniors, and persons with weakened immune systems are particularly vulnerable to harmful bacteria, and all customers should follow these directions.

To ensure destruction of all harmful bacteria and other microbes, water for drinking, cooking, and ice making should be boiled and cooled prior to use for drinking water or human consumption purposes. The water should be brought to a vigorous rolling boil and then boiled for two minutes.

In lieu of boiling, individuals may purchase bottled water or obtain water from some other suitable source for drinking water or human consumption purposes.

When it is no longer necessary to boil the water, Austin Water will notify customers that the water is safe for drinking water or human consumption purposes.

Once the boil water notice is no longer in effect, Austin Water will issue a notice to customers that rescinds the boil water notice in a manner similar to this notice.


Winter Storm Update: 2/17 7:50 pm CST
Due to current weather conditions and in the interest of our team's safety, the leasing office will open tomorrow, February 18th, from 1:00 PM - 5:30 PM
Although we will not be in the office, assisting you is our top priority. For maintenance emergencies, please call (844) 611-6039. Your call will be answered by a live answering service and one of our maintenance associates will personally respond to your call.
We appreciate your understanding.
Winter Storm Update - As of 2/16/21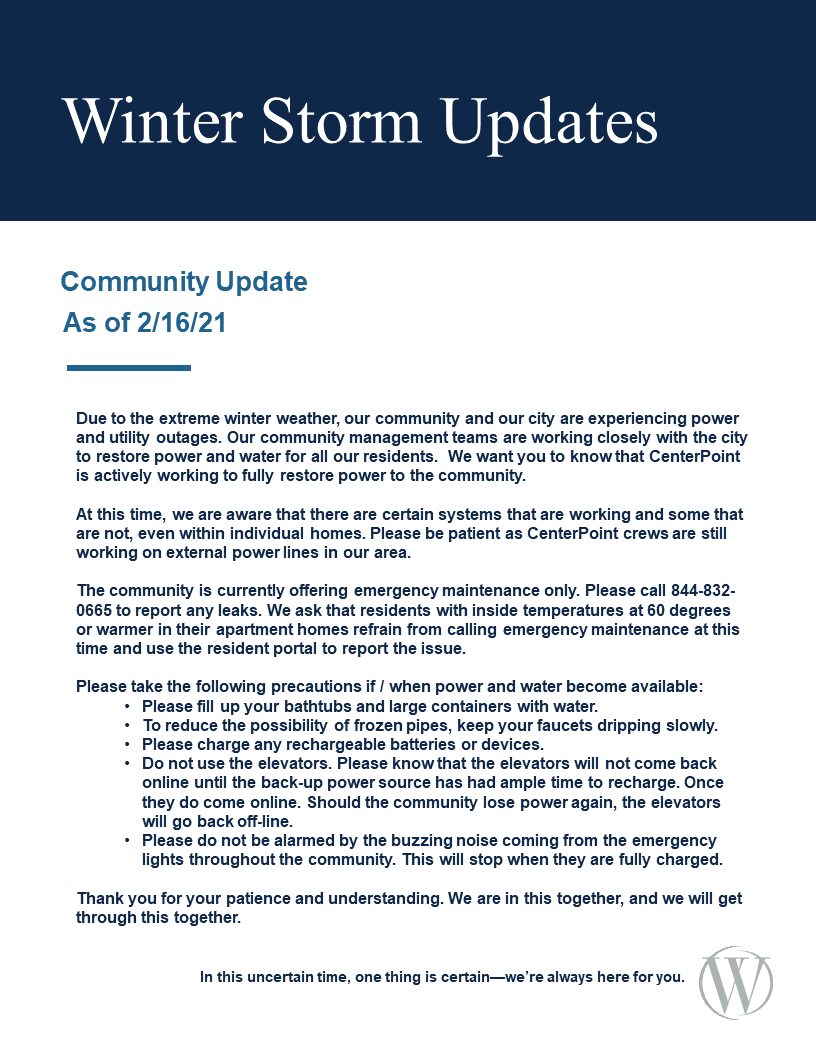 Local Resources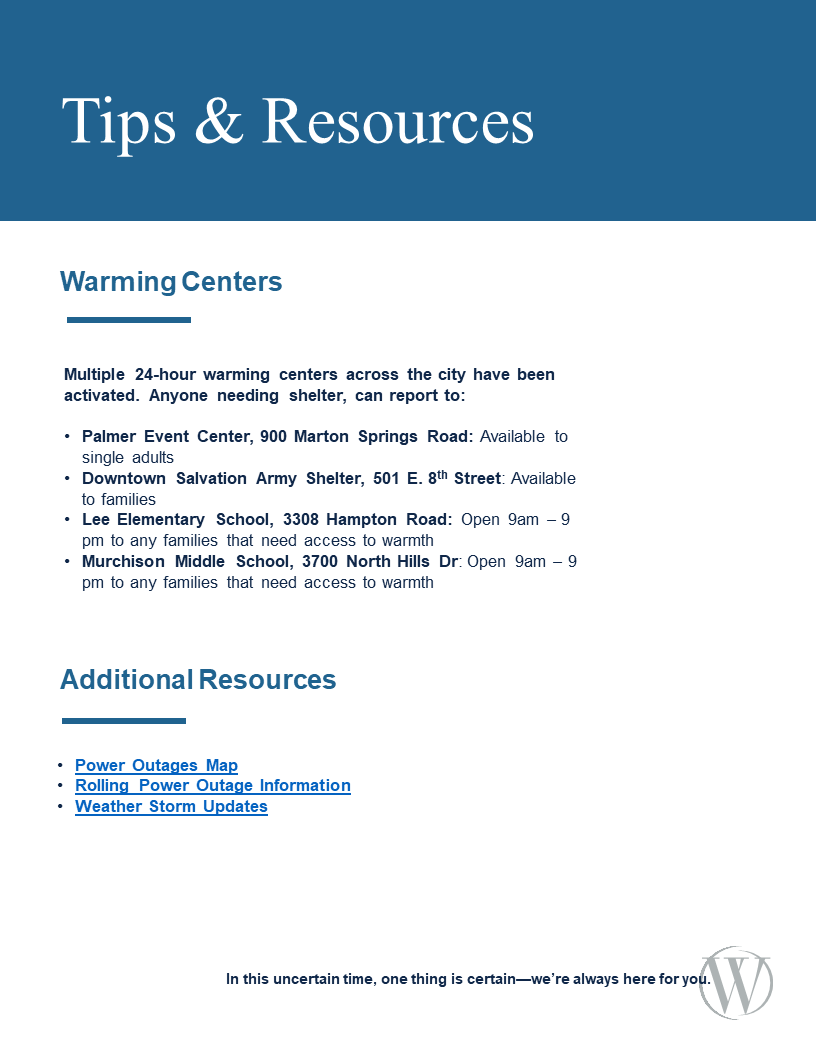 Community Tips